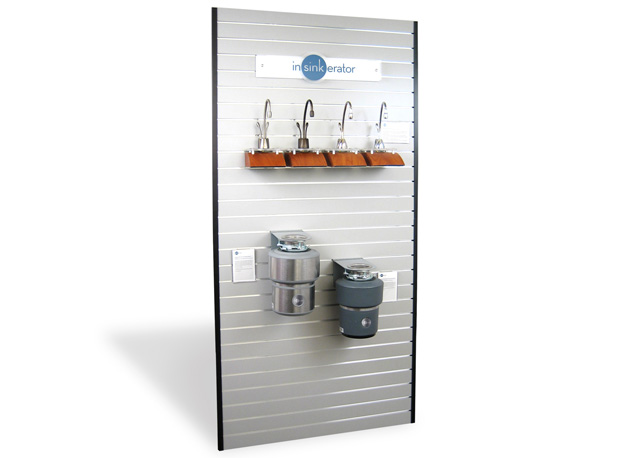 Wall to wall disposers.
When floor space is limited, slatwall can be a great way to showcase additional products. These simple slatwall product stands hold InSinkErator waste disposers and hot water faucets on a basic platform set up. To ensure consumers receive optimal product information, small infographics can also be hung alongside the product.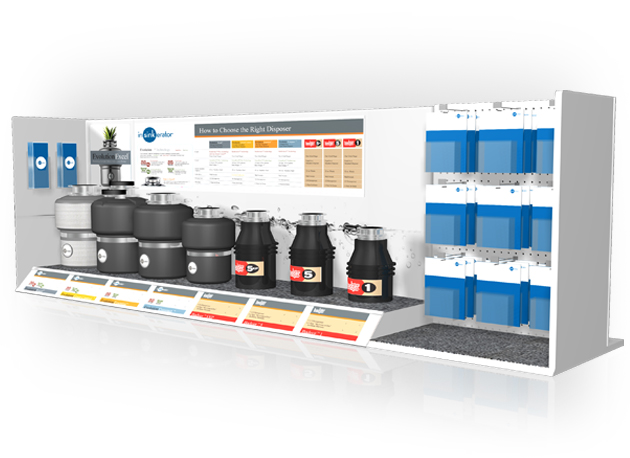 Home Depot's food waste disposer headquarters.
This eight foot bay merchandiser was the display designed and chosen for InSinkErator's first ever national roll-out to all US Home Depot stores. With its clean, crisp presence in the Home Depot store environment, consumers were drawn to it immediately. Take-away literature was also incorporated into the display for those that did not make the immediate in-store decision to purchase. Feature graphics along the front describe the 'good', 'better', 'best' lineup of disposers, while back graphics explain each disposer's advantages in greater detail.
Lowe's food waste disposer HQ.
This is the latest display built for Lowe's, showcasing a mix of food waste disposers and hot water dispensers. Understanding that noise is critical in the waste disposer selection process, we designed a custom sound module to assist consumers with their decision-making. This audio module allows consumers to hear the difference of the good-better-best disposer noise options and also gives InSinkErator a chance to upsell consumers to their top-end product, The Evolution Excel®. A vacuum-formed corner display provides shoppers the feel of featured hot water dispensers in a pseudo kitchen-sink environment.
A display for any size store.
For many, large home improvement warehouses are too much. Instead they prefer shopping at smaller, local hardware stores. With those stores in mind, we designed this modular pod display to showcase InsinkErator's Evolution Pro Series of waste disposers. Stores have the option to use the stand-alone and only feature a single disposer or they may wish to utilize multiple pods for a three or five disposer lineup.